HOLOGRAPHY MADE SIMPLE, HOLOGRAPHY MADE AFFORDABLE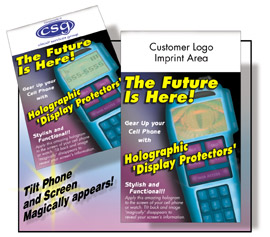 Hologram Display Decorations
Please Contact Your HoloBrands Supplier For Pricing
---

Product Size:
Hologram Size:
1.5"w x 1"h
Package Size:
3.25"w x 5.25"h
Imprint area:
2.75"w x 1"h
• Exciting NEW Product.
• Cool and descriptive full color package on 12 pt card stock.
• Package can be customized.
• Fun and practical for all ages.
• Please choose your stock hologram from cell phone images.
---
BACK

About | FAQS | Security | Stock Images | Terms
Copyrightę 2001 HoloBrands
All Rights Reserved.